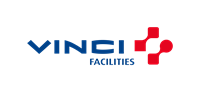 Contract Coordinator M/V/X
Assistanat
Contract Coordinator-50818
Zwijndrecht, Flanders
Contrat à durée indéterminée
Secondaire
Kruibeke - Hogenakkerhoekstraat 10
20/09/2021
Verantwoordelijk voor het opvolgen van de verkoop dossiers in samenwerking met de Contract Engineer.
TAKEN
Onze interne tool (VIP) optimaliseren door de data correct te zetten.
Het aligneren van de mappenstructuur op de server met de opbouw van de contracten in VIP (intern platform).
Het opladen van nieuwe contracten in VIP.
Het doorvoeren van aanpassingen op contracten in VIP.
Het correct zetten van de onderhoudsplanning van bestaande of nieuwe contracten in VIP in samenwerking met de Contract Manager en Contract Engineer.
Opleiding : Bachelor Secretariaat of gelijkwaardig door ervaring.
Ervaring : 3 Jaar ervaring.
Technischevaardigheden : Multi-technisch en algemeen brede kennis van technologie/nieuwe technologie, Excel – Word – PowerPoint.
Pragmatisch kunnen denken en daarbij een helikopter zicht kan bewaren, stipt kunnen werken/goede organisatie, stressbestendig zijn
Pourquoi nous rejoindre ?
VINCI Energies biedt u een professionele omgeving waar u de mogelijkheid krijgt om een heel interessant werk te leveren en verder te bouwen aan uw carrière.  Tevens biedt VINCI Energies u een attractief loon met voordelige extralegale voordelen, zoals :
Groepsverzekering + overlijdensverzekering en invaliditeitsverzekering.
Gratis hospitalisatieverzekering.
Arbeidsduurvermindering : 12 dagen bijkomend betaald verlof per jaar (vrij op te nemen – geen sluitingsperiode).
Carrièremogelijkheden en opleidingsplan.
Maaltijdcheques.
VINCI Facilities wil een weerspiegeling zijn van de Belgische samenleving. We moedigen iedereen aan om te solliciteren (ongeacht origine, huidskleur, leeftijd, geslacht, seksuele oriëntatie, filosofische of religieuze overtuiging, handicap,...)