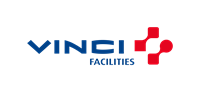 Elektricien in HVAC - Brugge M/V/X
Exploitation, maintenance
2020-42580
Brugge, Flanders
Contrat à durée indéterminée
Secondaire
AZ - Sint Jan
15/09/2021
TAKEN
Algemene elektriciteitswerken.
Plaatsen en aansluiten van verdeelborden en industriële componenten, verlichting, enz.
Opsporen en herstellen van defecten of fouten in elektrische installaties.
Helpen bij de implementatie van preventieve onderhoudsprogramma's, volgens een tijdschema die door de lijnmanager opgesteld werd om defecten en storingen te voorkomen.
Bestellen van vervangmateriaal voor dringende interventies.
Diverse reparaties uitvoeren om de goede werking van de installatie te verzekeren.
Gedetailleerde rapporten opmaken, de klanten informeren van de vooruitgangen, de hiërarchische lijn op de hoogte brengen van eventuele aanpassingen aan de installatie of aan de planning om de communicatie te verbeteren.
Dagelijks rapporteren aan de leidinggevende en aan de Service Desk.
Oog hebben voor commerciële opportuniteiten bij de klanten en deze doorgeven aan de leidinggevende zodat de objectieven van de organisatie kunnen bereikt worden.
De veiligheidsregels respecteren en de hiërarchische lijn verwittigen in geval van gevaarlijke situaties.
Opleiding: A2/A3 Elektriciteit.
Technische vaardigheden: VCA, BA4/BA5, plan lezen, zelfstandig kunnen werken.
Talen: Nederlands.
Pourquoi nous rejoindre ?
VINCI Energies biedt u een professionele omgeving waar u de mogelijkheid krijgt om een heel interessant werk te leveren en verder te bouwen aan uw carrière. Tevens biedt VINCI Energies u een attractief loon met voordelige extralegale voordelen, zoals :
Groepsverzekering+ overlijdensverzekering en invaliditeitsverzekering.
Gratis hospitalisatieverzekering.
Arbeidsduurvermindering : 12 dagen bijkomend betaald verlof per jaar.
Overuren uitbetaald (100% op zon- en feestdagen en 50% andere dagen) en 100% te recupereren.
Wachtpremie indien deelname aan de wachtdienst.
Camionnette met nodig materiaal voor thuis-werkreizen.
Carrièremogelijkheden en opleidingsplan.
Interesse?
Solliciteer spontaan door uw CV en motivatiebrief te versturen naar delia.becquet@vinci-facilities.com 
VINCI Facilities is een merk van VINCI Energies.
Wij werven aan op basis van competenties en talenten, ongeacht leeftijd, geslacht, origine, …